Singapore, Feb 6, 2023 – (ACN Newswire via SEAPRWire.com) – Minister for Sustainability and the Environment, Ms Grace Fu, inaugurated ABRABLAST Singapore's first recycled glass abrasive manufacturing plant in Abraclean (Asia Pacific) Pte Ltd at 46 Pioneer Sector 2, Singapore 628396. Present for the launch were Gurmit Singh, Chairman- Abraclean and Colonel (Ret) Lau Kee Siong- Director.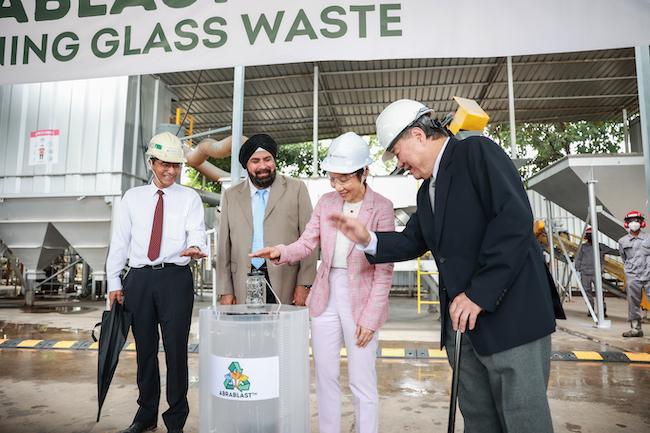 From (L) Xiang Xiang, MD-Abraclean Asia Pacific Pvt LTd, Gurmit Singh, Chairman, Abrablast, Minister Grace Fu and KS Lau, Director, Abraclean at the launch of Abrablast
ABRABLAST is a proprietary and a registered trademark in Singapore. Abraclean holds a General Waste Disposal Facility licence issued by the National Environment Agency (NEA), to receive, store, process or treat glass waste. The facility is licensed with a design capacity of 50 tonnes per day. We are a "Social Enterprise" moving towards building a Circular Economy.
Gurmit Singh, Chairman, Abraclean quips, "Sustainability is not just a vertical but also a horizontal layer that cuts across various industries. We are supporting Singapore's circular economy to ensure we recycle the glass and put it to use without harming Gaia (earth). We advocate for Singapore's Zero Waste Masterplan and believe this move will benefit the country such as contributing to raise recycling glass waste. We can process 40 tonnes daily, approximately 1,000 tonnes a month and 12,000 tonnes per year. This represents, about 16% of glass waste generated in Singapore. By recycling glass in this way, we will save on energy and reduce the carbon footprint. With a zero waste solution we further aspire to lower the landfill burden."
About Abraclean (Asia Pacific) Pte Ltd
Incepted in the year 2017, Abraclean is a one stop solution company for Blasting and Coating Services. We partner with International Brands of Protective coatings to meet the standards of industry. The company has considerable experience in blasting and coating, corrosion protection by providing proper surface preparation and utilizing various coatings. ABRABLAST represents our first step towards zero waste.
Bloomingdale PR Pte Ltd
Ganesh Somwanshi
+65 9779 1286
ganesh@bloomingdalepr.com
Copyright 2023 ACN Newswire. All rights reserved. (via SEAPRWire)